Muskets and Pistols
Our sites:
Heritage Film Services: Bringing History to Life
The French and Indian War Website
The Napoleonic Wars Collection
Military Music Sound Clip Gallery
---
Our Products:
British Army Products 1793-1815
British Army Products 1816-1856
Custom Die Stamping and Plating Service

British Colonial Conflicts and the Crimean War, 1816-1914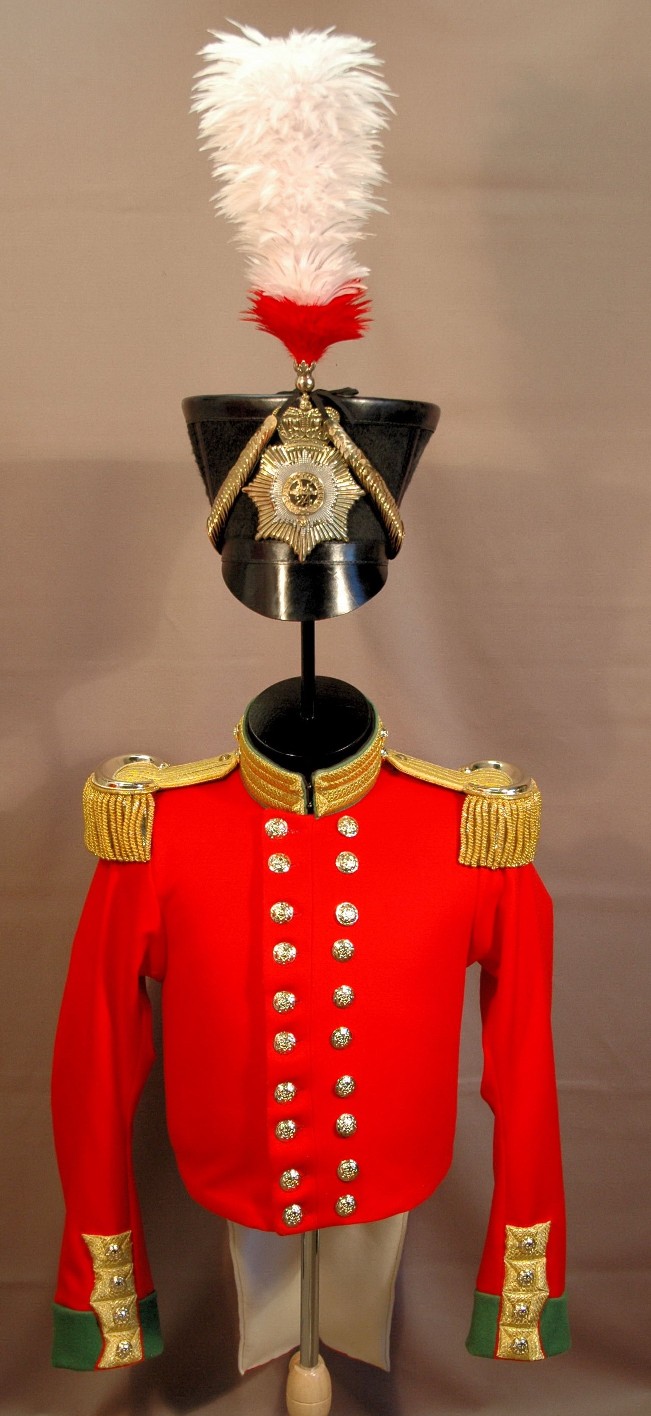 24th Officer Coat and Shako, 1830
for Fort Lennox National Historic Site



We have reproduced a number of 19th century British Army and Navy uniforms for various museums and collectors. The following are some examples. More are located in our Past Projects section.
Some examples from our Past Projects section.


Royal Can. Rifles, 1846-1855
(Fort Wellington Nat. Historic Site)

Officer Uniforms
We have made a number of officer dress and undress uniforms for the 1830s including an officer's for the 15th Regiment of Foot, 24th Regiment of Foot, 34th Regiment of Foot, and the Commissariat Department. These uniforms included coatees, swords, accoutrements, shakos, cocked hats, breast plates, and so on. The following illustrations speak for themselves.
34th Officer's Coatee, 1829-31 Regulations
Lace Detail Image of Same
34th Officer's Epaulet
34th Officer's Bell Top Shako, 1830-40
34th Officer's Breast Plate
Commissariat Officer coatee with Boxed Epaulets, 1831 Regulations
Cocked Hat of the Commissariat Department
Undress British Infantry Officer Epaulets, 1831 Regulations
Pattern 1822 Swords with Knot
Other Ranks Uniforms
Along with officer uniforms we have been called upon to reproduce other rank uniforms from 1816 to 1855 including for the 15th, 24th, 34th, 60th Rifles, the Royal Marines and the Royal Artillery.
Royal Artillery Bell-Top Shako
Royal Artillery Albert Pattern Shako 1845-55
Royal Marine Other Ranks Coatee 1836-55 (front view)
Royal Marine Other Ranks Coatee 1836-55 (back view)
Royal Marine Other Ranks Epaulet 1836-55
Zulu Wars Collection
Drummer Uniforms
We have reproduced a number of 19th century British Drummer's uniforms. For one museum we reproduced two uniforms for the 34th Regiment of Foot complete with the regiment's unique lace (in the case of this regiment it was the same pattern as the 1768-1836 private's lace). These uniforms included regimental fife cases and slings, drum badges for the rear of the shakos, coatees, pattern 1822 swords, and cross belts.

© © Copyright 1995-2019: Unless otherwise noted, all information, images, data contained within this website is protected by copyright under international law. Any unauthorized use of material contained here is strictly forbidden. All rights reserved. Access Heritage Inc (formerly The Discriminating General) is in no way to be held accountable for the use of any content on this website. See Conditions of Use.