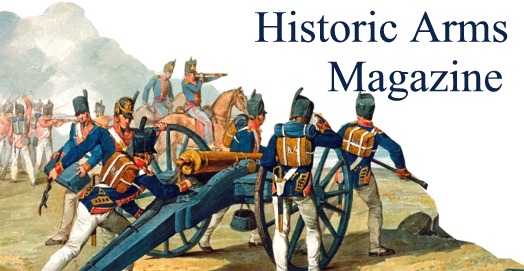 Articles
Introduction
Welcome to Access Heritage Inc 's Historic Arms Magazine. Below are a selection of free articles for your interest. A number of the said articles have been donated by the magazine Arms Collecting for which we are truly grateful. The focus of this section is on European and North American arms from 1600 to 1900.
Artillery
Tin Case Shot in the 18th Century by Adrian Caruana

Percussion Lock for Artillery, 1831 by Captain Henry Dehnel
Method of making Quick Match, c.1787 Edited by Robert Henderson
Muskets and Bayonets
Swords
The Extraordinary Life and Sword Play of Lieutenant John Shipp
The life of John Shipp is so interwoven with adventure and bravery, it sounds like a work of fiction. His sword fight with a Ghurka warlord is masterfully recounted by the Lieutenant himself.
Other
Arms Shipments to the Baltic 1813-1814. Compiled by Keith Raynor.

British Sergeant's Pike Drill, 1814 ed. by Robert Henderson

Hamilton Smith's Experiment with Colour of Uniforms, 1800 ed. by Keith Raynor