Share
British Sword Belt: Sam Browne Pattern c1870 to Today
India - Colonial Wars - WWI - WWII - Today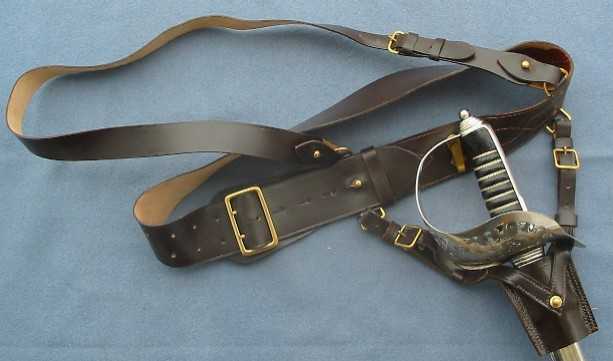 ACC-012

£55.00

95.000US

99.00CAN
Comes in Brown or Black
---
This pattern of belt was developed by Major Sam Browne in the Punjab Cavalry sometime in the 1860s. Browne had won Victoria Cross for charging rebel gun positions during the Indian Mutiny of 1857, but had lost an arm. Mounting and dismounting with his sword proved awkward and Browne set about developing a revolutionary belt system that has stood has stood the test of time to today.
The dark brown reproduction shown here is of excellent quality and comes with the Same Browne waistbelt, shoulder strap and sword frog. A wonderful addition to any collection.
- Click Here for FAX Order Form -
- How to Contact Us -

---
Militaryheritage.com Sites:
Seven Years War Website Napoleonic Wars Collection Military Heritage Magazine
Military Music Sound Clip Gallery Home of Access Heritage Inc (formerly The Discriminating General)
---
Our Products and Services:

Our Mission and Clients Product Index Heritage Film Services Seven Years War Replicas
American Rev Replicas Napoleonic Wars Replicas French Nap. Headdress
British Army,1793-1815 British Army, 1816-1856 Military Buttons Military Belt Plates
Swords Sword Knots Military Drums Additional Products...
---
© Copyright 1995-2019: Unless otherwise noted, all information, images, data contained within this website is protected by copyright under international law. Any unauthorized use of material contained here is strictly forbidden. All rights reserved. Access Heritage Inc (formerly The Discriminating General) is in no way to be held accountable for the use of any content on this website. See Conditions of Use.