Share
British Army Painted Knapsack, 1760s - 1810
American Revolution - Napoleonic Wars
Sold out
---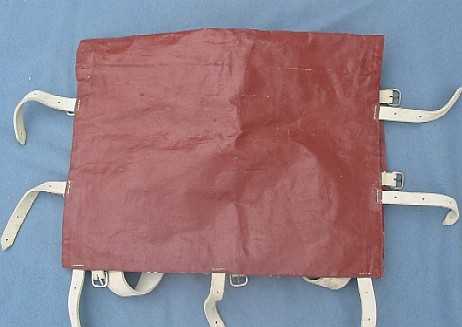 *special thanks to Joel Moffet for the development of the prototype
We had the fortune to study in detail an original late 18th century British Army knapsack. From this examination we are able to produce this completely handmade replica including the buckles and marker's mark. As the photos attest this is must for any British Army reenactor.
This item is made of oznaburg linen and closed with white leather straps (similar to buff), and is waterproofed by reddish brown paint matched to that of the original. The paint covers both sides of the knapsack: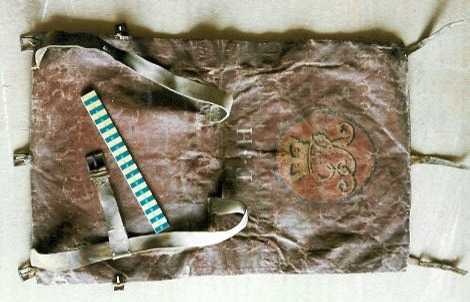 Original Knapsack (special thanks to Keith Raynor)
Inside the two main storage pockets are closed by three black horn buttons and all the finishing is done by hand. One delightful element about the original knapsack was the presence of the marker's stamp for the famous firm Trotters of London. This element is reproduced in fine style on our replica: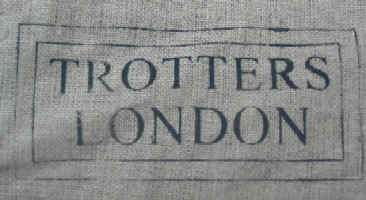 Historical
Pictorial and other evidence suggests the painted knapsack started to take hold in the British Army just prior to the American Revolution. By the 1790, it was universal. Indeed the Dayes prints of 1792 show this type of knapsack on the ground beside each regiment the artist illustrated. The extensive collection of the 97th Regiment of the early 1790s again supports this packs dominance. A beautiful painting in 1805 of an unknown British volunteer in the collection of the National Army Museum, almost identical to the original above, shows its continued use.
When the new design was implemented in 1806, it took many years for the various Regiments to switch. Regimental Inspection returns show this knapsack still in use into 1810. The 1806 knapsack is probably one of the most mis-interpreted items of equipment and commonly believed to have boards in it which it did not. The practice of placing of boards in the knapsack started in 1815 in some regiments and was not at all a universally-adopted alteration. Of course this is another story. - Robert Henderson
Other Images: Image 1 Image 2 Image 3
- Click Here for FAX Order Form -
- How to Contact Us -

---
Militaryheritage.com Sites:
Seven Years War Website Napoleonic Wars Collection Military Heritage Magazine
Military Music Sound Clip Gallery Home of Access Heritage Inc (formerly The Discriminating General)
---
Our Products and Services:

Our Mission and Clients Product Index Heritage Film Services Seven Years War Replicas
American Rev Replicas Napoleonic Wars Replicas French Nap. Headdress
British Army,1793-1815 British Army, 1816-1856 Military Buttons Military Belt Plates
Swords Sword Knots Military Drums Additional Products...
---
© Copyright 1995-2019: Unless otherwise noted, all information, images, data contained within this website is protected by copyright under international law. Any unauthorized use of material contained here is strictly forbidden. All rights reserved. Access Heritage Inc (formerly The Discriminating General) is in no way to be held accountable for the use of any content on this website. See Conditions of Use.