Share
Hand Sewn British Army Haversack c1768 -1840
American Revolution - Napoleonic - War of 1812
Price: Product Presently Unavailable ACC017
---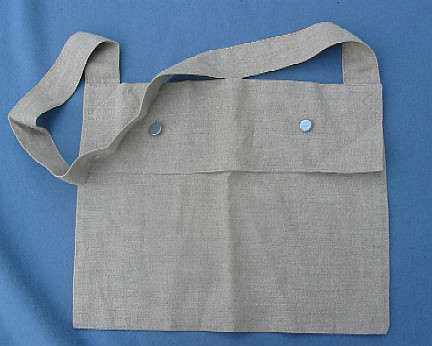 This haversack is based on a number of surviving examples and is made of 8 oz oznaburg linen and is marked with GR and the broad arrow. This item is hand sewn faithful to the surviving original In fact you will be hard pressed to purchase the materials alone at this price.
Historical
The haversack used during the Seven Years War somewhat larger than this design and had an adjustable strap and a three button closure. Likely as an attempt to reduce costs and lighten the load the soldier bore, a smaller version was introduced, likely in the late 1760s, with a non-adjustable strap and a two button closure.
There are at least three surviving examples of haversacks of this pattern. One is marked with a GR and broad arrow, one with a BO and broad arrow, and one with no markings at all. The measurements, materials and construction of each one are quite similar. In the name of economy, one of the three actually used the selvage of the linen as the edge of the flap.
This item of field equipment was manufactured on contract by the Commissariat or the Broad of Ordnance and there was likely some slight variations in the patterns by the different departments. Because this was a mass manufactured item, the length of strap would have been a standard size. In addition since this item of field equipment was often returned to stores after its use, alternations of it would have been forbidden. An exception to this might have been troops in the field without depots like in the Peninsular War where haversacks were purchased by the various regiments from the Commissariat. Likely a regimental or personal mark was made along side the government marking.
By 1811 this piece of equipment was considered by Military officials to be of a horrible design because it was not waterproofed and was always filthy and stained. A new haversack with a painted cover was proposed and approved by a board of officers. C. Hamilton Smith went as far as to illustrate it (Foot Guards in Winter Dress) as part of the changes to be introduced in the new 1812 clothing regulations. However it was dropped because of cost concerns and was never used. In 1813, one Commissariat contract called for some of the haversacks being made to have a webbing strap. This requirement was dropped on another contract later that year. An original 1860s haversack shows the linen strap survived for most of the 19th century. The poorly-designed un-adjustable linen haversack continued a long life all the way to 1871. - Robert Henderson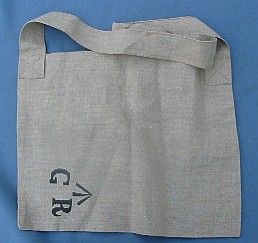 - Click Here for FAX Order Form -
- How to Contact Us -

---
Militaryheritage.com Sites:
Seven Years War Website Napoleonic Wars Collection Military Heritage Magazine
Military Music Sound Clip Gallery Home of Access Heritage Inc (formerly The Discriminating General)
---
Our Products and Services:

Our Mission and Clients Product Index Heritage Film Services Seven Years War Replicas
American Rev Replicas Napoleonic Wars Replicas French Nap. Headdress
British Army,1793-1815 British Army, 1816-1856 Military Buttons Military Belt Plates
Swords Sword Knots Military Drums Additional Products...
---
© Copyright 1995-2019: Unless otherwise noted, all information, images, data contained within this website is protected by copyright under international law. Any unauthorized use of material contained here is strictly forbidden. All rights reserved. Access Heritage Inc (formerly The Discriminating General) is in no way to be held accountable for the use of any content on this website. See Conditions of Use.