British Army Cartridge Box or Pouch 1804 -1817
Peninsular War - Battle of Waterloo - War of 1812 - Mexican Army
Cartridge Pouch (ACC-011) Price:

109.00US

115.00CAN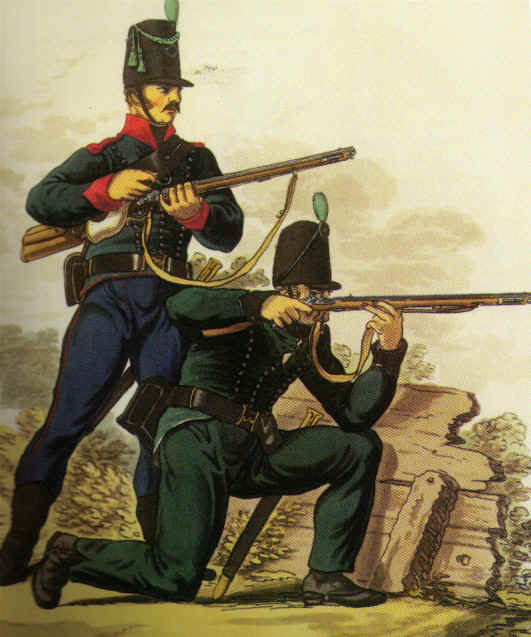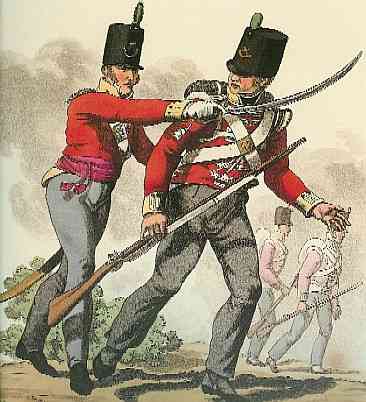 ---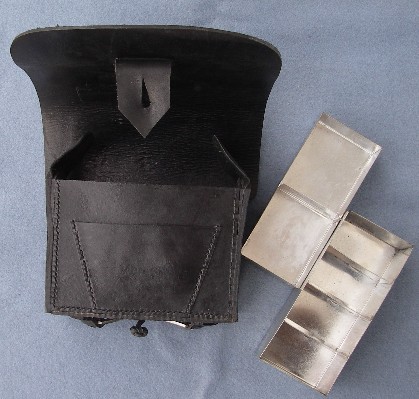 Other Images: Image 1 Image 2 Image 3 Image 4 Image 5
This 60-round cartridge pouch is copied from an original in the Toronto Historical Board's reserve collection along with information on surviving examples in other collections. As with our other products, attention to detail is key in reproducing this item. The pouch flap is rough-side-out and the tab has been blind stitched. The flap is dyed black on both sides like the original and this is typical of other 19th century pouches. In fact the original also shows signs of being heavily polished on the inside of the flap. The appropriate tin trays are included in the price, and the appropriate leather button for closing the flap is also present. The pouch is hand stitched with blackened waxed thread, and has hand-cut iron buckles. It is simply a beautiful replica.
Please note: Contrary to popular belief, this famous pouch did not have a wood block and tin tray.
Historical
If you recreate a British infantryman or Rifleman in the Napoleonic Wars or the War of 1812, this pouch is required. Through detailed studies of Regimental Inspection Returns, it has been uncovered that this pouch, approved in 1804, was almost universally used by British units at home or serving in Europe by 1809-1810. For regiments in the colonies or other stations such as the Cape of Good Hope, it took as late as 1812 to outfit everyone with the new pouch. In the War of 1812, when the new pouches arrived, the regiment's old ones were sent to auction or sold through the newspaper ads, presumably purchased by volunteer units.
What was interesting about the 60 round pouch, was that cartridges became issued in packs of 10 opposed to packs of 12. In the pouch 4 packs (40 cartridges) were put in upright in the upper tin tray's slot, while 2 packs were laid flat in the compartments of the lower tray. Having 40 cartridges ready to the soldier must have improved the continued fire power of the British, as compared to the earlier pouch which had only 18 available, prior to the block being flipped. Once the soldier was out, his file partner assisted the soldier in cycling the remaining two packs from the lower tray into the upper one. Likely because of the leather shrinking around the trays, the upper/lower tray system was abandoned in the 1817. The model that year was a deeper design where all 60 rounds were upright and ready for action.
When the 1817 pattern was slowly introduced, the 1804 ones were surplused and many of them, along with a great variety of other equipment, ended up in the Mexican Army in the 1830s. In addition, during the Napoleonic Wars, Britain supplied shiploads of infantry equipment to her allies in Europe. It is presumed that this pouch would have been amongst these supplies and found its way into the armies of Prussia, Spain, Portugal, and so on.
1804 Cartridge Pouch (ACC-011) Price: 119.00US 125.00CAN

- IN STOCK - READY TO SHIP -
- Click Here for FAX Order Form -
- How to Contact Us -

---
Militaryheritage.com Sites:
Seven Years War Website Napoleonic Wars Collection Military Heritage Magazine
Military Music Sound Clip Gallery Home of Access Heritage Inc (formerly The Discriminating General)
---
Our Products and Services:

Our Mission and Clients Product Index Heritage Film Services Seven Years War Replicas
American Rev Replicas Napoleonic Wars Replicas French Nap. Headdress
British Army,1793-1815 British Army, 1816-1856 Military Buttons Military Belt Plates
Swords Sword Knots Military Drums Additional Products...
---
© © Copyright 1995-2018: Unless otherwise noted, all information, images, data contained within this website is protected by copyright under international law. Any unauthorized use of material contained here is strictly forbidden. All rights reserved. Access Heritage Inc (formerly The Discriminating General) is in no way to be held accountable for the use of any content on this website. See Conditions of Use.