Share
British Army Wooden Canteen 1793-1861
Napoleonic - War of 1812 - Crimean War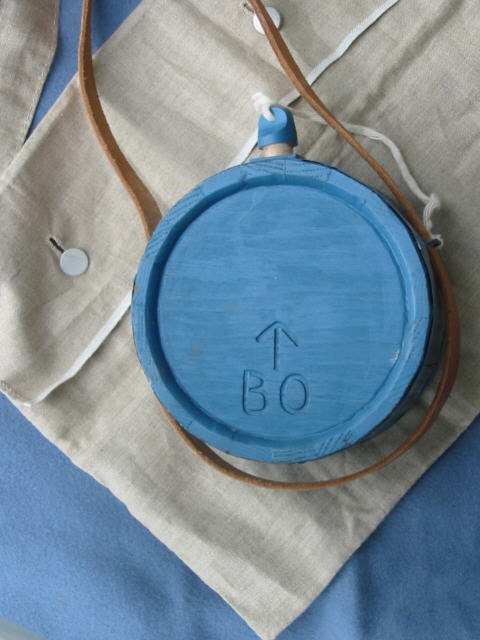 ACC018

115.00

125.00 (leather strap included!)
SOLD OUT
---
Now available is this beautiful reproduction of a British Army Wooden Canteen complete with the Board of Ordnance (BO) and broad arrow branded marking. Designed after a surviving original from the War of 1812, this canteen painted Ordnance blue and the leather strap is included.
Historical
The wooden canteen was first officially sanctioned in 1793. Trotter and Sons, the main manufacturer, were recorded making over 200,000 of them by 1803. That said there was still a mixture of tin and wooden canteens available to the troops throughout the Napoleonic Wars as shown in military store records. Each wooden canteen came with a 68 inch long, 1 inch wide leather strap with buckle for adjustment. The strap was mounted through the canteen's iron bails.
During the War of 1812 British regiments and the Canadian militia were issued canteens such as this one out of Commissariat stores leaving a garrison and were not regimentally marked because they were expected to be returned. The same was the case for regiments stationed in Great Britain. However British troops serving in the Peninsular War, because of the lack of depots, had their canteens purchased by their regiment from the Commissariat and therefore were regimentally marked with white lead paint to show this new ownership.
For the Waterloo campaign, because many of the regiments were coming from home service in Great Britain, the majority of the canteens there would not have been regimentally marked. This is supported by an 1815 oil sketch by G. Jones of two Foot Guardsmen which shows a canteen front-and-centre with no regimental markings.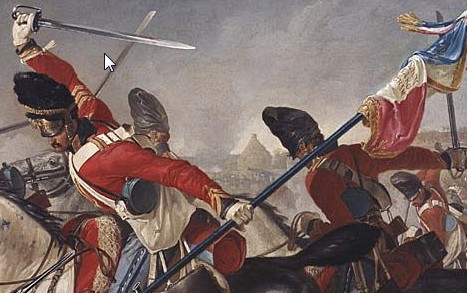 Scots Greys at Waterloo carrying Canteens without regimental markings
The hundreds of thousands of canteens made in the Napoleonic Wars seem to have meet the needs of the British Army all the way up to 1854 when a new run of canteens was ordered to meet the possible increase in demand because of the Crimean War. The BO and arrow markings on these canteens were reduced to a small marking stamp with the date of manufacture. The Crimean War and after would have saw a mixture of the two canteens in stores as the old stocks were replaced with new ones. In 1861 a new wooden canteen was approved of that removed the bevelled edge and became similar to cheese box style used infrequently by the US army. The wooden canteen was abandoned altogether in 1871, with the Italian-style water bottle being adopted by the British Army. -Robert Henderson
- Click Here for FAX Order Form -
- How to Contact Us -

---
Militaryheritage.com Sites:
Seven Years War Website Napoleonic Wars Collection Military Heritage Magazine
Military Music Sound Clip Gallery Home of Access Heritage Inc (formerly The Discriminating General)
---
Our Products and Services:

Our Mission and Clients Product Index Heritage Film Services Seven Years War Replicas
American Rev Replicas Napoleonic Wars Replicas French Nap. Headdress
British Army,1793-1815 British Army, 1816-1856 Military Buttons Military Belt Plates
Swords Sword Knots Military Drums Additional Products...
---
© Copyright 1995-2019: Unless otherwise noted, all information, images, data contained within this website is protected by copyright under international law. Any unauthorized use of material contained here is strictly forbidden. All rights reserved. Access Heritage Inc (formerly The Discriminating General) is in no way to be held accountable for the use of any content on this website. See Conditions of Use.