Share
Tecumseh's Trade Gun
or Northwest Chief's Musket
Tecumseh War - War of 1812 - Fur Trade - American Indian Wars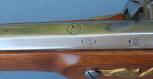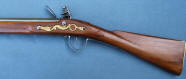 Northwest Chief's Musket:

559.00

699.00 (MTS-048)
---
Shipments of shorter "Chief's guns" started to arrive from England in 1811. At least 6,000 would be distributed by the British to their Native allies. Among those receiving this flintlock musket was the famous Shawnee Chief Tecumseh. A thorn in the side of Americans attempting to settle in Ohio, and Michigan, Tecumseh waged war to protect the Shawnee homelands (see Tecumseh's War). From the British Indian Department depot at Amherstburg on the Detroit River, Tecumseh was given one these shorter Northwest fur trade guns. Luckily Tecumseh's musket survived the test of time and is in the Museum of the Fur Trade.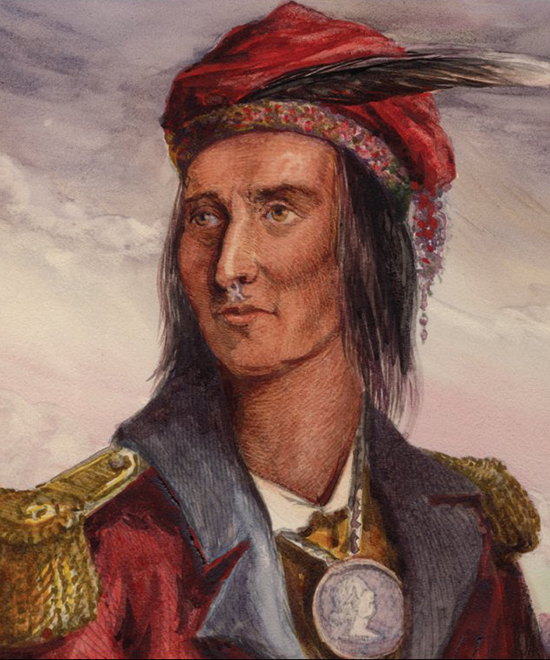 Tecumseh
During the War of 1812, the Shawnee fought in numerous battles and some even were on the British fleet as sharpshooters during the battle of Put-in-Bay when Perry took control of Lake Erie. Tecumseh was killed in the Battle of the Thames in late 1813. After the war, the Shawnee signed the 1817 Treaty of Fort Meigs and was eventually relocated to Kansas and Oklahoma, taking their Northwest fur trade guns with them.
The shorter 36 inch barreled Northwest "Chief's" gun, slowly gained popularity over its longer version. It was found that accuracy of the shorter barrel was really no different from the longer version. The carbine-like length of the shorter gun made it more useful on horse back. By the 1830s, the shorter barrel had become equal, if not more popular to 42 inch barreled fur trade gun. Certainly storing the shorter gun in a canoe was more convenient.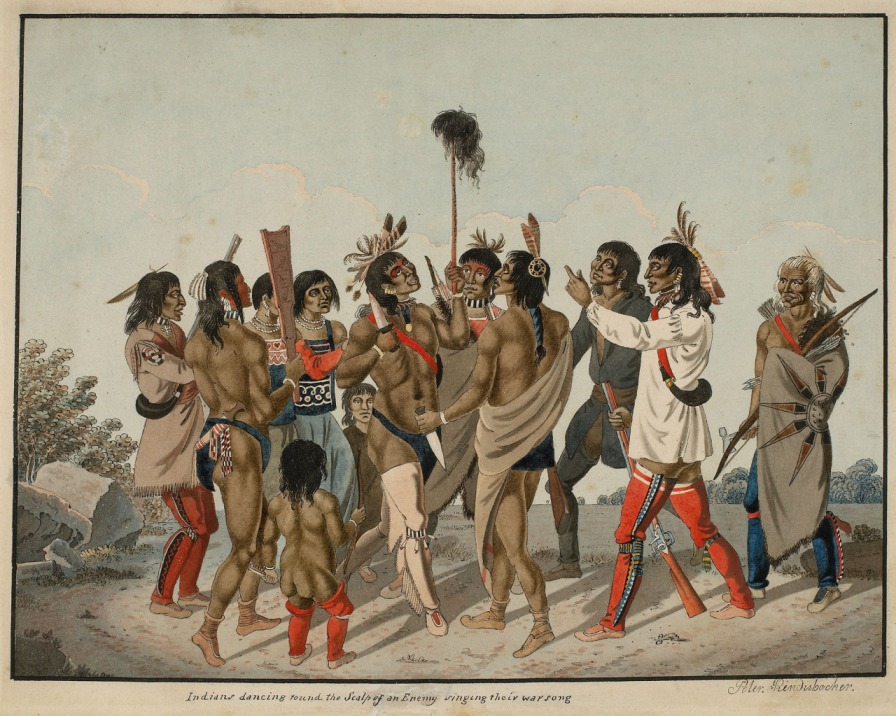 Natives dancing around a scalp with the shorter Chief's style musket illustrated in 1822 by Peter Rindisbocker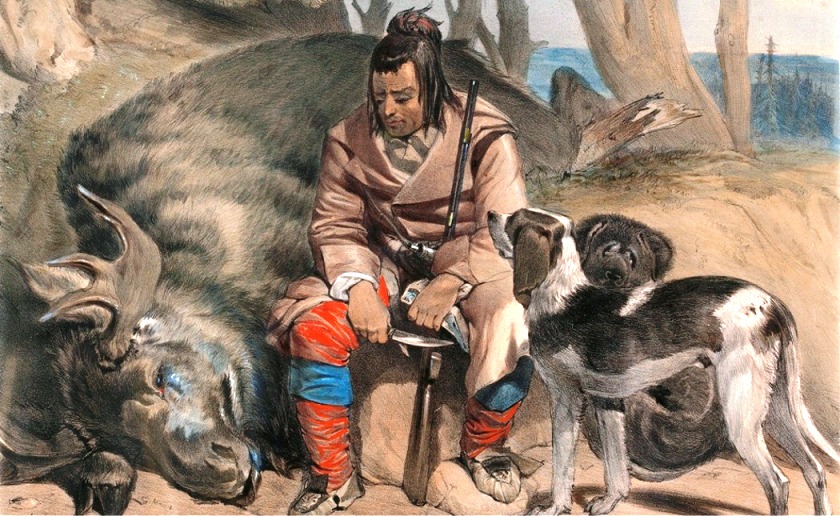 Moose Hunter, 1840
Specifications
This smooth-bore musket has a 36-inch octagon-to-round barrel with a 20 gauge bore (.625 calibre). Archaeological finds (example David Thompson's musket balls in 1811) point to a .57 of .58 ball being most commonly used. Overall length of reproduction is 52 inches.
Because the browning varied from original to original, and is dictated by personal preference, we have left it in the bright steel. The British made trade guns manufactured before 1816 were most likely browned naturally and were not blued. Read more about browning of arms by the British here. Of course the lock screws go through the iconic brass coiled serpent / dragon patterned plate. The stock butt is squared like the originals. This style of butt was popular with sea service muskets and was presumably considered more durable.
As the photographs attest, this replica is quite well assembled with a case hardened frizzen cover (hammer) producing good sparks. The seamless tempered barrels are made of polished high-carbon steel (type:BS970 no.080M40- auto industry foundry) and the breeches are tight. We use a industrial case-hardening factory process that makes sparking both more reliable and longer lasting. Presently no other musket provider uses this technique.
As with all our other flintlocks, the vent is not drilled (read details below) so we can ship easily to your door throughout North America and to Europe and the UK. Aside from that they are exactly like the originals. A fine addition to any collection.
Northwest Chief's Musket: 559.00 699.00 (MTS-048)


- Money-back Guarantee - Shipped to your Door -

$49.00 Shipping anywhere in North America
(HI, AK, and Territories please inquire)
Shipping costs at bottom of our main Muskets and Pistols page
Our Guarantee
If upon receiving your musket you are not completely happy with your purchase, you may return it for a refund. All we ask is you cover the shipping costs. It has to be returned in two weeks of receipt and be in its original state (unaltered and unmodified).
Non-Firing State
We sell historically accurate muskets and pistols in a non-firing state. This allows us to comply with various local, state, national and international firearms regulations, along with shipping company policy restrictions. A certified gunsmith may decide to alter a musket or pistol to a firing state by drilling the vent hole and test firing it. We are not legally responsible for any changes from its present state. Please read our Conditions of Use and Legal Disclaimer. The customer is expected to be aware of the laws of their locality that govern products of this nature.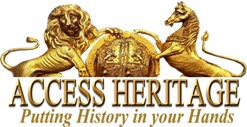 © Copyright 1995-2019: Unless otherwise noted, all information, images, data contained within this website is protected by copyright under international law. Any unauthorized use of material contained here is strictly forbidden. All rights reserved. Access Heritage Inc (formerly The Discriminating General) is in no way to be held accountable for the use of any content on this website. See Conditions of Use.