Share
| | | |
| --- | --- | --- |
| | | |


We provided 80 complete World War One replica uniforms and equipment for the recreated Newfoundland Regiment.
See them at Signal Hill National Historic Site in St. John's, Newfoundland.
British Infantry Officer Sword with Field Scabbard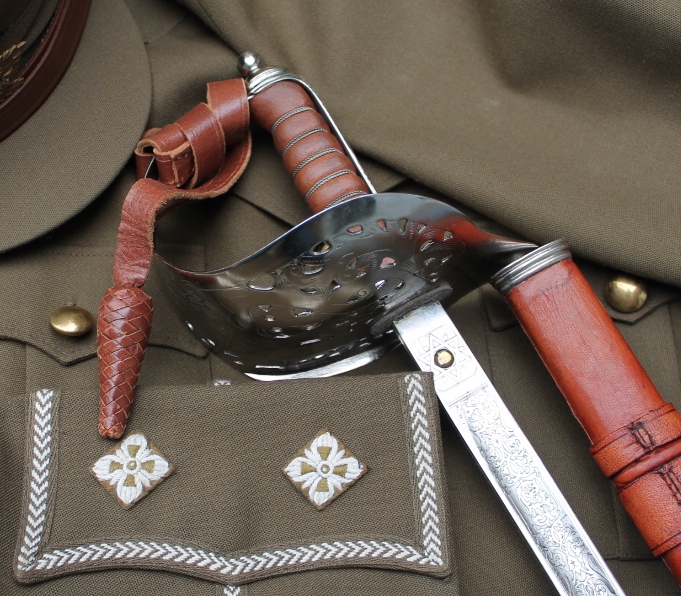 More Images: Image Image Image Image Image
Offered here is the 1897 Pattern British Infantry officer's sword with brown field grip and Sam Browne field scabbard. Some consider this model to be the best fighting sword ever issued to the British officer. The three-quarter pierced steel basket hilt provided maximum protection, while its 32 inch fullered blade made it an excellent thrusting edged weapon. Of course the blade also has the requisite finely executed etching. The Edward VII Crown and Cypher completes the piece make the appropriate for the South African (Boer) War and World War One.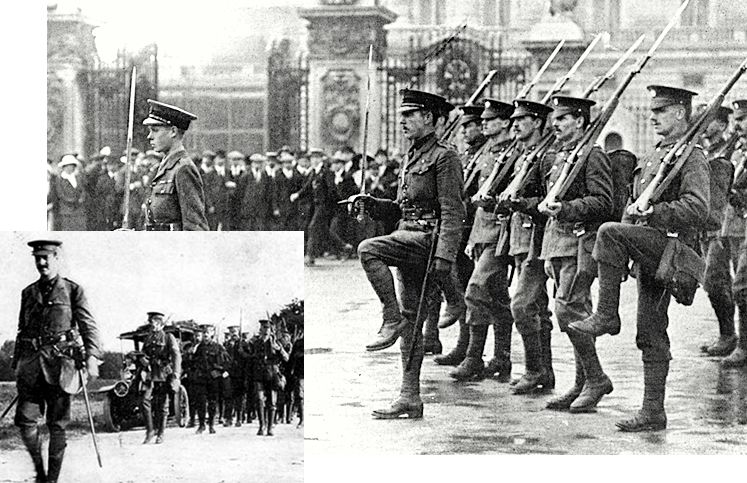 The Grenadier Guards led by Prince Edward at Buckingham Palace.
Insert: LtCol Corry leading the Guards in France, August 1914.
British Brodie Helmet

Used by British Commonwealth troops and American "Dough Boys", this steel 2nd Pattern Brodie Helmet comes with a 100% accurate natural leather chin strap with slider buckle. The liner inside however is the more comfortable WW2 pattern. Fits sizes up to 7 3/8 head size (23 1/8 inches / 58.7 cm circumference) . Shipping cost in North America: 19.00.

SOLD OUT




for
Our Brodie Helmet in Use. All uniforms and Accoutrements in this video supplied by our Company.

British and Canadian Other Ranks Service Dress Cap

Popular with cap badge collectors, this service dress cap was used by British imperial forces throughout World War 1. This formed service cap is different from the soft trench cap also used in the war. The cap badge is not included. Various head sizes available. Simply include the measurement of your head with your order. If you know your hat size please include that as well.

WW1003 70.00 75.00 SOLD OUT


British Imperial Army Boots

Used by British Imperial forces, these replica boots come complete with authentic heel plate and hob nails for both grip and added longevity to the leather soles. Use dark brown polish to achieve the proper field colour. Sizes available: 8, 9, 10, 11, & 12.

WW1002 SOLD OUT


British Army Webbing Complete


Supplied to the Canadian Expeditionary Force, this pattern of webbing accoutrements (P'08) remained essentially unchanged throughout World War One (though some field mortifications were adopted). Based on original examples, the replica (reproduction) set offered here includes all strapping and pouches shown. Does not include canteen, bayonet or tunic. Adjustable up to waist size 42.


Brass Buttons on Sale! (Click here)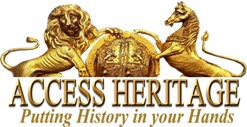 © Copyright 1995-2019: Unless otherwise noted, all information, images, data contained within this website is protected by copyright under international law. Any unauthorized use of material contained here is strictly forbidden. All rights reserved. Access Heritage Inc (formerly The Discriminating General) is in no way to be held accountable for the use of any content on this website. See Conditions of Use.