Share
German 1801 "Sharpshooter" Infantry Light Musket for Sale
Prussia and German States - French Allies - Napoleonic Wars


German 1801 "Sharpshooter" Infantry Light Musket:

559.00

699.00 (MTS-051)
---
The Prussian Army faced an issue. They had improved the 1740 Model musket with a heavy ramrod to improve the speed of firing. However fighting the speedy French revolutionary columns of troops in the First Coalition War of the 1790s had proven military tactics had change. Mobility and light tactics became to the front in military thought.
To answer this need, Captain Nothardt of Regiment No.57 (Glogau) developed a new and highly effective musket, the 1801 Model. Nothardt's Regiment, under the leadership of Friedrich August von Graevenitz, had become an incubator of efficiency and innovation. Nothardt looked to improving accuracy and reducing weight. His solution was two-fold. First he reduced to the calibre of the barrel to .62, a calibre common with hunting fowling pieces. The reduced calibre made the barrel much lighter and a lighter ramrod could be introduced as well. The two improvement was addition of front and rear sights, vertically unheard of for Infantry muskets at the time. Further embracing the shooter design, a beautifully sculpted cheek piece was added to the butt of the stock.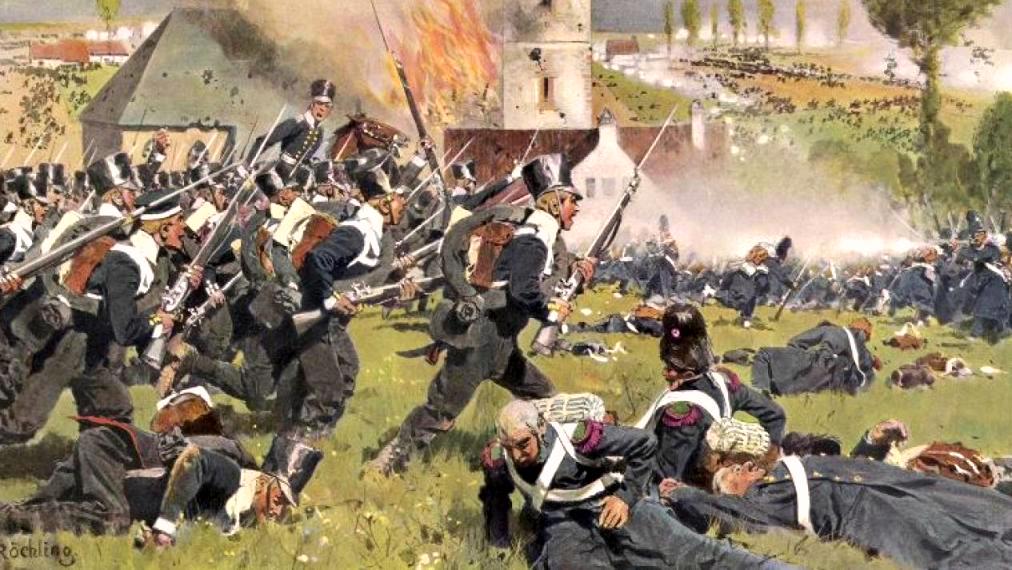 Prussian troops advancing in the Napoleonic Wars by Carl Rochling
By 1805, the musket was in heavy production and seven battalions of Prussian Infantry were outfitted with the new musket by the time war broke out with France. While an excellent musket especially for sharpshooting light infantry, the Prussians discovered an issue with it. The logistics of supplying smaller ammunition was an issue. The Prussian musket used by the majority of the army used .75 calibre ammunition and could in a pinch use enemy ammunition for the French .69 calibre musket (the British Army had a similar advantage). Nothardt's musket could not and it and was replaced in 1809 Infantry Pattern that was similar to the French Imperial Guard Musket.
Like the Ross Rifle of World War One, the Nothardt Musket was a shooter's firearm that could not handle the varied demands of military service. Ironically after Prussia was defeated by Napoleon in 1806, captured Nothardt muskets were impressive enough to be re-issued to French allies along the Rhine and continued to used until the end of the Napoleonic Wars.
Specifications
This smooth-bore flintlock muzzleloader has a 42-inch tapered barrel with a .62 calibre bore. The overall length is 58 inches. The "POTZDAMMAGAZ" armoury markings are consistent with those manufactured in 1805. The Prussian royal cypher and crown is etched into the brass of the reverse side plate The trumpet style ramrod is more robust. A new invention as added this musket, the build in and reinforced flash guard to prevent burning the soldier next to you with vent blast.
As the photographs attest, this replica is quite well assembled with a case hardened frizzen cover (hammer) producing good sparks. The seamless tempered barrels are made of polished high-carbon steel (type:BS970 no.080M40- auto industry foundry) and the breeches are tight. We use a industrial case-hardening factory process that makes sparking both more reliable and longer lasting. Presently no other musket provider uses this technique.
As with all our other flintlocks, the vent is not drilled (read details below) so we can ship easily to your door throughout North America and to Europe and the UK. Aside from that they are exactly like the originals. A fine addition to any collection.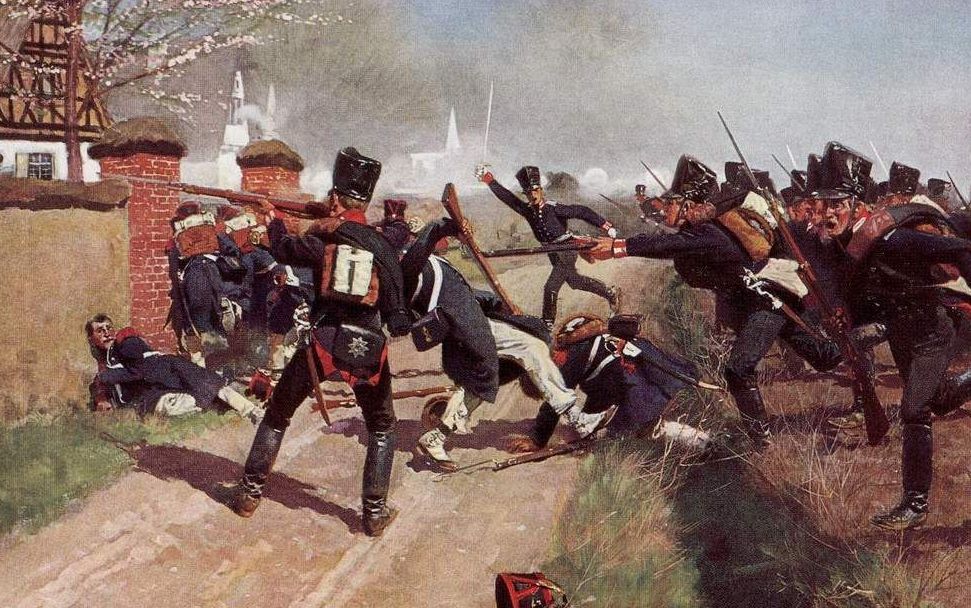 Prussian Guards attacking French position near Farm by Carl Rochling

German 1801 Pattern Infantry Light Musket: 559.00 699.00 (MTS-051)

- Money-back Guarantee - Shipped to your Door -

$49.00 Shipping anywhere in North America
(HI, AK, and Territories please inquire)
Shipping costs at bottom of our main Muskets and Pistols page
Our Guarantee
If upon receiving your musket you are not completely happy with your purchase, you may return it for a refund. All we ask is you cover the shipping costs. It has to be returned in two weeks of receipt and be in its original state (unaltered and unmodified).
Non-Firing State
We sell historically accurate muskets and pistols in a non-firing state. This allows us to comply with various local, state, national and international firearms regulations, along with shipping company policy restrictions. A certified gunsmith may decide to alter a musket or pistol to a firing state by drilling the vent hole and test firing it. We are not legally responsible for any changes from its present state. Please read our Conditions of Use and Legal Disclaimer. The customer is expected to be aware of the laws of their locality that govern products of this nature.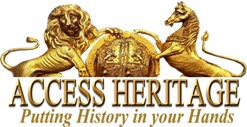 © Copyright 1995-2019: Unless otherwise noted, all information, images, data contained within this website is protected by copyright under international law. Any unauthorized use of material contained here is strictly forbidden. All rights reserved. Access Heritage Inc (formerly The Discriminating General) is in no way to be held accountable for the use of any content on this website. See Conditions of Use.