Share
Pattern 1777 French Dragoon Musket 1777-1819
- adopted by Light Infantry (Voltiguers), Foot Artillery, French Navy and National Guard -
American Revolution - Napoleonic Wars - Waterloo - 1830 Revolution (Les Miserables)


French Dragoon and Artillery Musket:

559.00

699.00 (MTS-049)
---
The history of this musket (technically a "fusil") dates back to 1734 when French Dragoons first were armed with long arms so they could fight on foot. The pattern illustrated here resembles the 1766 model. though shorter. France's foot artillery copied the Dragoon model, becoming that corps first firearm. In 1777 a brass pan was introduced and the length of the barrel was reduced to 42 1/2 inches (some originals measure 41 1/2 inches). During the American Revolution the French Artillery used this model. In 1800 (AN IX) it was decided to alter this musket by reducing the barrel length to 40 1/2 inches. In 1805 a unit of Foot Dragoons was even formed to skirmish using light infantry tactics.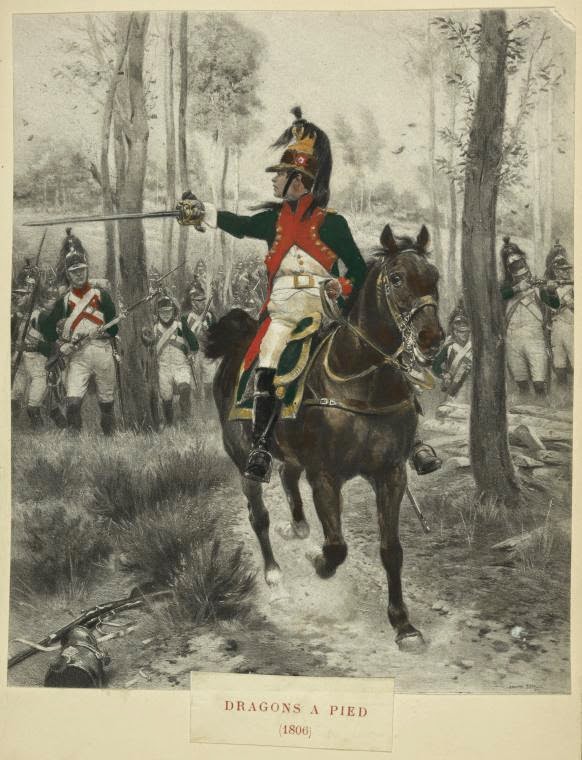 Dragoons on foot in 1806 by Edouard Detaille

During the Napoleonic Wars, the Dragoon pattern was adopted by other units like the Voltiguers (Light Infantry), the Foot Artillery, and in 1806 even some regiments of carabiniers and horse grenadiers. Towards the end of the production of this musket, the French Navy and the National Guard adopted it. In the end over 450,000 were made.

French Voltiguers campagning in Spain in 1808 shown armed with this musket by Jean-Claude Bonnefond (Virginia Museum of Fine Art)
Specifications
This smooth-bore musket has a 40 1/2-inch octagon-to-round barrel with a .69 calibre bore. Historically they used a .65 ball. Overall length of reproduction is 56 inches.
As the photographs attest, this replica is quite well assembled with a case hardened frizzen cover (hammer) producing good sparks. The seamless tempered barrels are made of polished high-carbon steel (type:BS970 no.080M40- auto industry foundry) and the breeches are tight. We use a industrial case-hardening factory process that makes sparking both more reliable and longer lasting. Presently no other musket provider uses this technique.
As with all our other flintlocks, the vent is not drilled (read details below) so we can ship easily to your door throughout North America and to Europe and the UK. Aside from that they are exactly like the originals. A fine addition to any collection.

Mounted Dragoons with this musket by Edouard Detaille
French Dragoon and Light Infantry Musket: 559.00 699.00 (MTS-049)


- Money-back Guarantee - Shipped to your Door -

$49.00 Shipping anywhere in North America
(HI, AK, and Territories please inquire)
Shipping costs at bottom of our main Muskets and Pistols page
Our Guarantee
If upon receiving your musket you are not completely happy with your purchase, you may return it for a refund. All we ask is you cover the shipping costs. It has to be returned in two weeks of receipt and be in its original state (unaltered and unmodified).
Non-Firing State
We sell historically accurate muskets and pistols in a non-firing state. This allows us to comply with various local, state, national and international firearms regulations, along with shipping company policy restrictions. A certified gunsmith may decide to alter a musket or pistol to a firing state by drilling the vent hole and test firing it. We are not legally responsible for any changes from its present state. Please read our Conditions of Use and Legal Disclaimer. The customer is expected to be aware of the laws of their locality that govern products of this nature.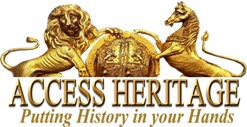 © Copyright 1995-2019: Unless otherwise noted, all information, images, data contained within this website is protected by copyright under international law. Any unauthorized use of material contained here is strictly forbidden. All rights reserved. Access Heritage Inc (formerly The Discriminating General) is in no way to be held accountable for the use of any content on this website. See Conditions of Use.