Share
Napoleon's Imperial Guard Infantry Musket (1804-1815)
Imperial Guard Briquet sword found here
---


559.00

699.00 (MTS-036)
This is the musket used by Napoleon's famous Imperial Guard. The design is quite similar to the standard French Infantry musket of the time except the barrel bands, trigger guard and butt plate are made of brass. Initially most of the "Garde Impériale" muskets were made at the Versailles armoury but this soon expanded to productions from other armouries in France like the St. Etienne armoury (like the reproduction offered here). Used from Austerlitz to the Battle of Waterloo, this black powder musket is a must for any serious collector.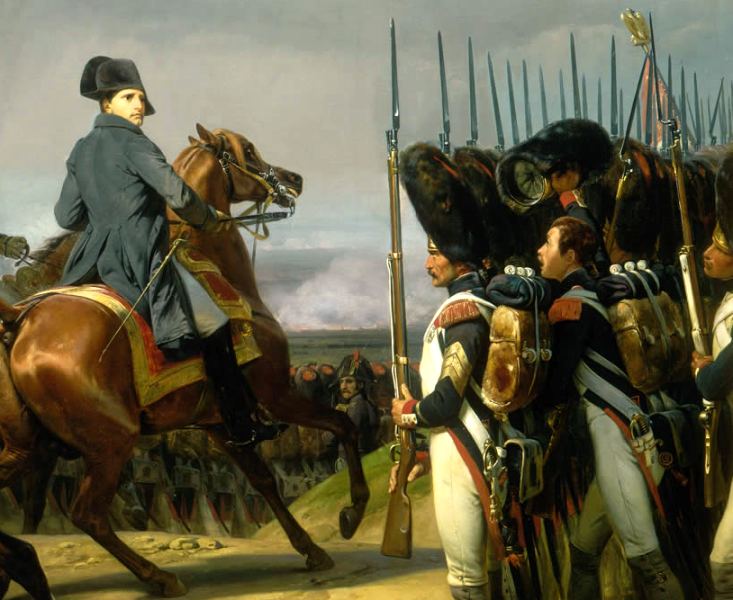 Napoleon with the Imperial Guard at Jena in 1806 (by Horace Vernet) Read about the Guard's service at Jena here.

Napoleon's Imperial Guard with their muskets in 1814 fighting Russian troops using the almost identical musket by Carle Vernet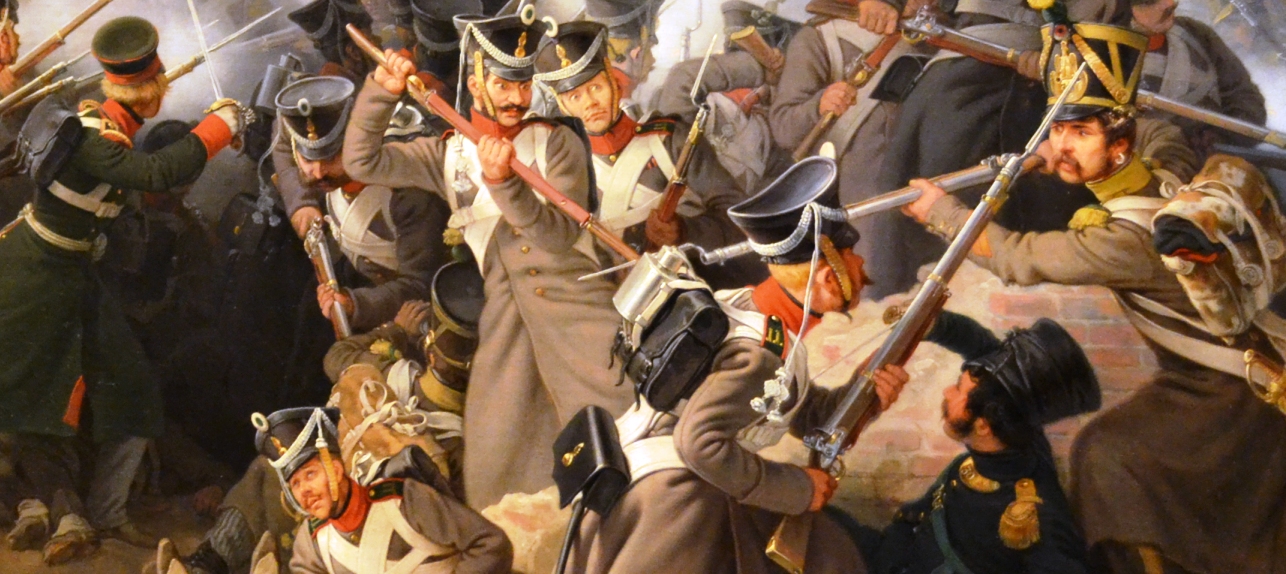 1814 Battle Scene showing Russian 1808 musket by Peter von Hoss.
In 1808 Russia copied this musket almost identically as shown above. At the time Napoleon's France and Russia were quasi-allies. The Russian Model 1808 Musket continued to be the principal infantry firearm until 1845. Many were converted to percussion cap and saw service in the Crimean War.
Specifications
Like other infantry muskets, the imperial guard musket has a straighten frizzen cover over the brass pan. The .69 calibre barrel is 44 3/4 inches long and the musket's total length is 60 inches. The lock plate has the St. Etienne arsenal markings, along with the appropriate stampings on the breech. Borrowed from the Prussians, the trumpet style ramrod was standard for the French Army after 1777.
As the photographs attest, this replica is quite well assembled with a case hardened frizzen cover (hammer) producing good sparks. The seamless tempered barrels are made of high-carbon steel (type:BS970 no.080M40- auto industry foundry) and the breeches are tight. We use a industrial case-hardening factory process that makes sparking both more reliable and longer lasting. Presently no other musket provider uses this technique.
As with all our other flintlocks, the vent is not drilled (read details below) so we can ship easily to your door throughout North America and to Europe and the UK. Aside from that they are exactly like the originals. A fine addition to any collection.
French Imperial Guard Infantry Musket: 559.00 699.00 (MTS-036)
For shipping costs see bottom of our main Muskets and Pistols page



- Money-back Guarantee - Shipped to your Door -

Click on Images:
Also Available: 1777 Bayonet (without scabbard for

59.00

59.00
For shipping costs see bottom of our main Muskets and Pistols page
Our Guarantee
If upon receiving your musket you are not completely happy with your purchase, you may return it for a refund. All we ask is you cover the shipping costs. It has to be returned in two weeks of receipt and be in its original state (unaltered and unmodified).
Non-Firing State
We sell historically accurate muskets and pistols in a non-firing state. This allows us to comply with various local, state, national and international firearms regulations, along with shipping company policy restrictions. A certified gunsmith may decide to alter a musket or pistol to a firing state by drilling the vent hole and test firing it. We are not legally responsible for any changes from its present state. Please read our Conditions of Use and Legal Disclaimer. The customer is expected to be aware of the laws of their locality that govern products of this nature.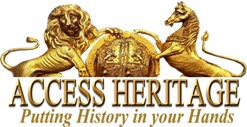 © Copyright 1995-2019: Unless otherwise noted, all information, images, data contained within this website is protected by copyright under international law. Any unauthorized use of material contained here is strictly forbidden. All rights reserved. Access Heritage Inc (formerly The Discriminating General) is in no way to be held accountable for the use of any content on this website. See Conditions of Use.