Share
16th Century Matchlock Arquebus for Sale
Spanish Conquistadors - Queen Elizabeth's Army - Landsknecht Mercenaries - Age of Explorers - Hundred Years War


16th Century Matchlock Harquebus:

579.00

699.00 (MTS-053)
---
Firearms evolved quickly throughout the 16th century. Armies hurried to replace their archers with troops armed with Matchlocks. Caliver patterns or "light" muskets imerged. In the New World the Spanish Conquistadors found their matchlocks had an added shock value when fighting against the Aztecs and other native tribes. The result was the conquest of Mexico.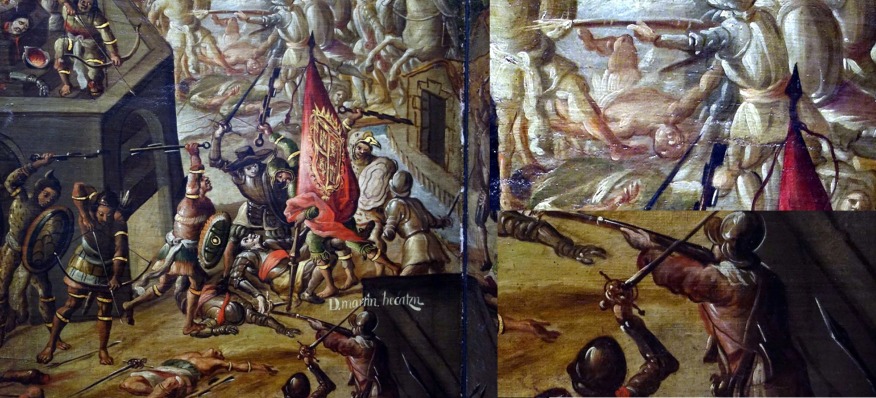 Spanish fighting Aztecs in Mexico. Note the reinforced muzzle of the Conquistador's matchlock about to shoot.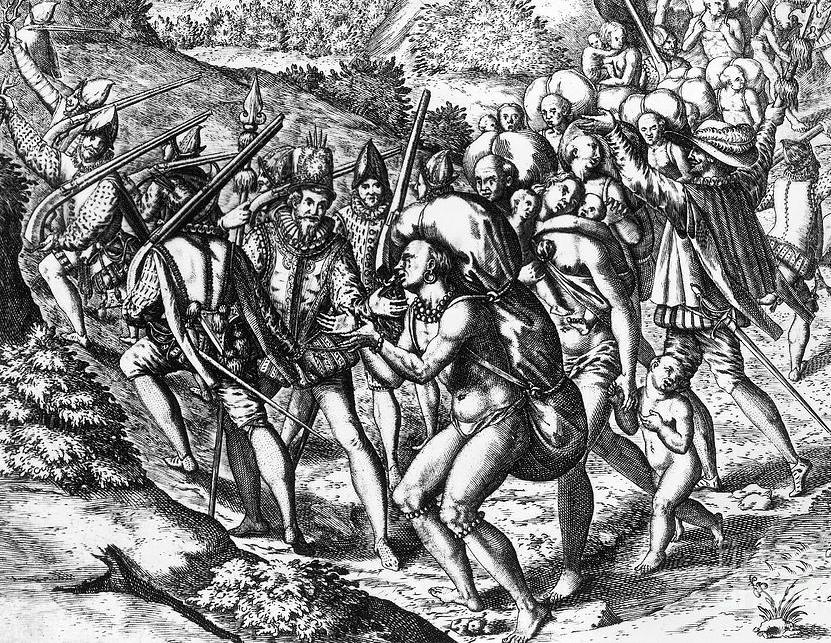 Spanish invade the Inca Empire
Other European armies battled with this style of matchlock including Queen Elizabeth's army and navy. However probably the most notable were the German Landsknecht mercenary troops. The Landsknecht matchlock designs were initially more square and ornate in the stock. By the mid 1500s the pattern offered for sale here started to appear.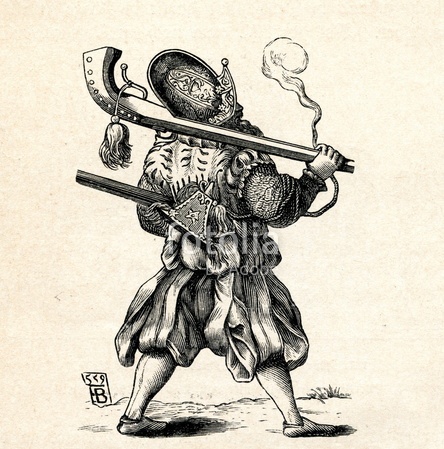 German Landsknecht in the mid-16th century. The artist took liberties
making the curve of the stock more dramatic.
This slopping stock butt pattern was then introduced to Japan, China, and India by Portuguese explorers and traders in the 1540s and shaped matchlock production in Asia for the next 300 years.
So why was this matchlock short? The quality of steel was poor so the thickness of the barrel walls were significant. So while shorter, it weighs almost 9 lbs. Improvements in steel and metallurgy saw a reduction in the amount of steel needed in a barrel. As a result the matchlock arquebus became longer.
Specifications
This smooth-bore matchlock has a 28 1/2-inch octagon-to-round barrel with a .57 calibre bore. As the pictures show, the flare at the muzzle to provide extra strength and was not flared in the bore like a blunderbuss. Overall length of this reproduction is 46 inches. An interesting feature include a safety catch on the trigger lever.
The seamless tempered barrels are made of polished high-carbon steel (type:BS970 no.080M40- auto industry foundry) and the breeches are tight. The barrel walls are thick to match the historic mass of the originals and makes the wait of this "hand gonne" 9lbs.
As with all our other muskets, the vent is not drilled (read details below) so we can ship easily to your door throughout North America and to Europe and the UK. Aside from that they are exactly like the originals. A fine addition to any collection.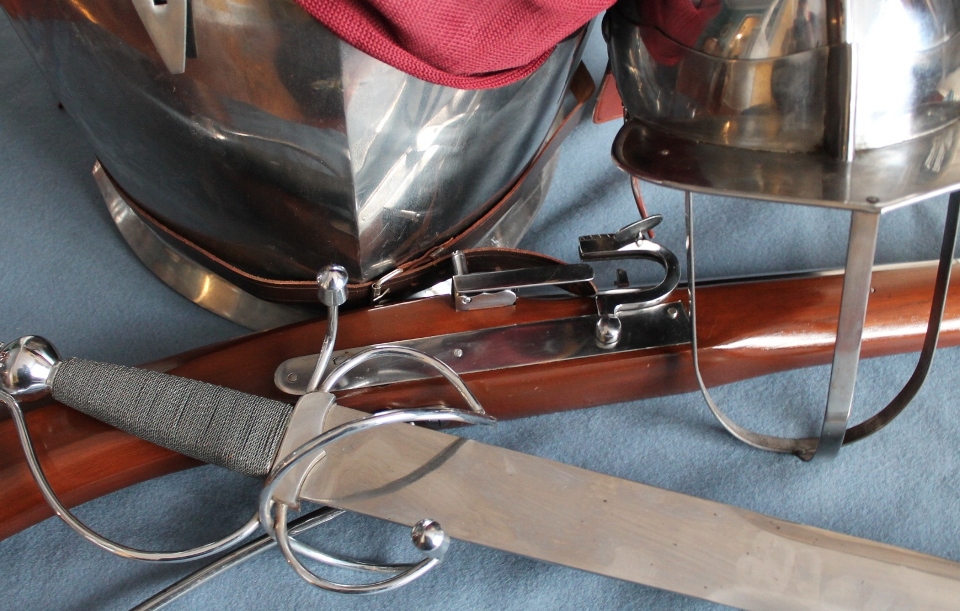 16th Century Matchlock Arquebus: 579.00 699.00 (MTS-053)


- Money-back Guarantee - Shipped to your Door -

$49.00 Shipping anywhere in North America
(HI, AK, and Territories please inquire)
Shipping costs at bottom of our main Muskets and Pistols page
Our Guarantee
If upon receiving your musket you are not completely happy with your purchase, you may return it for a refund. All we ask is you cover the shipping costs. It has to be returned in two weeks of receipt and be in its original state (unaltered and unmodified).
Non-Firing State
We sell historically accurate muskets and pistols in a non-firing state. This allows us to comply with various local, state, national and international firearms regulations, along with shipping company policy restrictions. Please read our Conditions of Use and Legal Disclaimer. The customer is expected to be aware of the laws of their locality that govern products of this nature.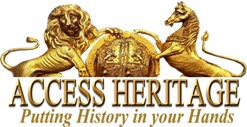 © Copyright 1995-2019: Unless otherwise noted, all information, images, data contained within this website is protected by copyright under international law. Any unauthorized use of material contained here is strictly forbidden. All rights reserved. Access Heritage Inc (formerly The Discriminating General) is in no way to be held accountable for the use of any content on this website. See Conditions of Use.