Share
17th Century Matchlock Arquebus
1580 - 1680
English Civil War - Colonial America - New France - Europe's Hundred Years War

---
Style A: Matchlock Arquebus with Crossbow Lever Trigger (MTS-027A)



Other Image:


(Lever has a safety latch at bottom to lock the lever trigger while loading)
Style B: Matchlock Arquebus with Trigger Guard (MTS-027B)



Other Images: Image 2 Image 3 Image 4 Image 5 Image 6
Historical Background

Crafted in the Swedish style, this matchlock musket was typical of the matchlock musquettes used in both England and France during the first half of the 17th century. Indeed the Dutch and several German states took into use similar designs for their musketeers. It's wide use is documented in numerous drill manuals of the time along with numerous surviving examples (specimens in the Musée de l'Armée in Paris, the Tower of London, and the Royal Ontario Museum) . During the English Civil War this was considered a Regimental pattern and barrel lengths appeared to have varied from 42" to 48" inches. By 1660, this design had become obsolete in most armies. However some were retrofitted by replacing the lock with a newer design such as a dog lock. A beautiful example of this was found archaeologically off one of the sunken ships of Phipp's New England Army that attempted to capture Quebec in 1690. In addition as matchlocks were sold off, it is likely they would have found homes with the 17th century Pirates on the high seas.


Musketeers by Jacob de Gheyn in 1609

Specifications

This Matchlock reproduction has a 42 inch (107 cm) long, octagon-to-round, .75 calibre barrel that is made of tempered seamless carbon steel (type:BS970 no.080M40) with a tight breech plug. The overall length is 57" (145 cm) and weighs 9 lbs (approximately 4 kg). As with all our other black powder muzzleloaders, the vent is not drilled (read details below) so we can ship easily to your door throughout North America and to Europe and the UK. Aside from that they are exactly like the originals. A fine addition to any collection.


Dutch Musketeer with Matchlock being fired in 1639 (Rijksmuseum)

17th Century Matchlock:

559.00 699.00 (MTS-027A MTS-027B)

- Money-back Guarantee - Shipped to your Door -
For shipping costs and other details see our Muskets section
Our Guarantee
If upon receiving your musket you are not completely happy with your purchase, you may return it for a refund. All we ask is you cover the shipping costs. It has to be returned in two weeks of receipt and be in its original state (unaltered and unmodified).
Non-Firing State
We sell historically accurate muskets and pistols in a non-firing state. This allows us to comply with various local, state, national and international firearms regulations, along with shipping company policy restrictions. A certified gunsmith may decide to alter a musket or pistol to a firing state by drilling the vent hole and test firing it. We are not legally responsible for any changes from its present state. Please read our Conditions of Use and Legal Disclaimer. The customer is expected to be aware of the laws of their locality that govern products of this nature.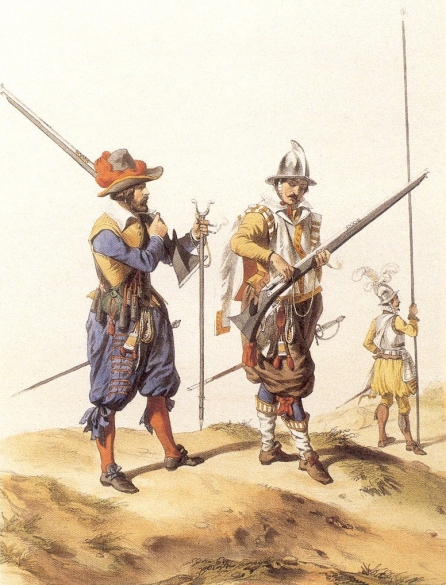 French Musketeers in the early 17th Century
© Copyright 1995-2019: Unless otherwise noted, all information, images, data contained within this website is protected by copyright under international law. Any unauthorized use of material contained here is strictly forbidden. All rights reserved. Access Heritage Inc (formerly The Discriminating General) is in no way to be held accountable for the use of any content on this website. See Conditions of Use.